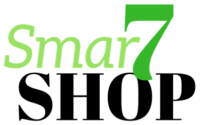 Logo created by 1mpact IT for all Purdue Global Internship Programs.
Smar7Shop is an eCommerce website run by a single mom whose aim is to provide products like the more expensive competitors at a reasonable price.
Smar7Shop is always searching for that trendy product or style that favored innovators and celebrities use and wear without breaking the bank!
Links are listed below to view some of the pages.